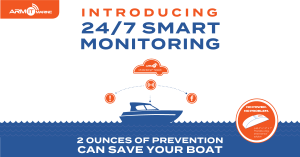 ArmIt Marine founder Mitchell C. Arthur talks with Captain Lou of the radio show Nautical Talk at the Newport International Boat Show about the new suite of boat sensors the company has just launched.
Mitch explains how ArmIt's easily installed BilgeMax sensor works to keep your boat afloat when you are not there to monitor it. The autonomous sensor is self-contained, with its own battery and cellular modem inside. When it detects trouble, it places a call to ArmIt central monitoring, which then forwards that call to you via text, email, or a live operator, based on your preferences. The whole sequence takes just a minute.
ArmIt Marine sensors give you peace of mind when you are away from your docked boat. All for $69.99 a year — the price of a well-stocked cooler of beer and some chips.
Have a listen. Then learn more here.